What We Provide In train ticket booking app
Gone are the days when booking a train ticket was a time taking process. Now you do not have to stand in long queues to make reservations. Just a few clicks on train ticket booking app and you confirm your next trip from the comfort of your home.
Benefits of train booking app
Here are some benefits of train booking apps that I found on the current web page context:
Hih booking confirmation rate for most types of railway tickets.
Hassle-free refunds and returns.
Boarding point change facility.
Features of train booking app
Gives you precise information on the chances of ticket confirmation for a route before booking
Get executive lounge access at a few railway stations
Check the running status of the train even when offline
Verify PNR status
Book train tickets easily
Check for seat availability and coach positioning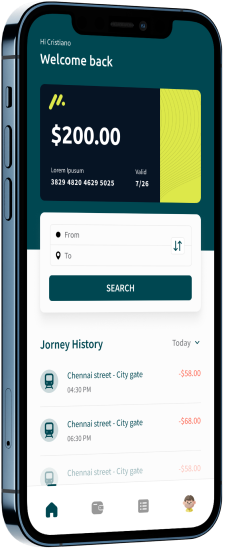 Functionalities of train ticket booking app
The current web page context is about train booking apps. Some of the features of train booking apps include:
Train ticket booking
Train status checking
PNR status checking
Train fare enquiry
Cancellation of tickets
Refund of tickets
Check for seat availability and coach positioning
Train tickets
Technologies
Time frame
Cost of App –
Basic Apps: Basic apps with limited features and functionalities typically range from 3 – 4 lakhs
Medium Complexity Apps: Apps with moderate features and functionalities, user authentication, database integration, and API integrations can range from 4 – 6 lakhs
Complex Apps: Highly complex apps with advanced features, custom designs, real-time data synchronization, third-party integrations, and backend development can range from 6 – 8 lakhs or more.
Discovery and Planning: 10%
Design: 10%
Development: 40%
Backend Development: 20%
Testing and Quality Assurance: 20%
Deployment and App Store Submission: 15000 Rs (both Android and IOS)
Maintenance and Support: 10 – 15 % per year (Depending on the user volume)