The Ultimate Guide To The Best Mobile App Development Companies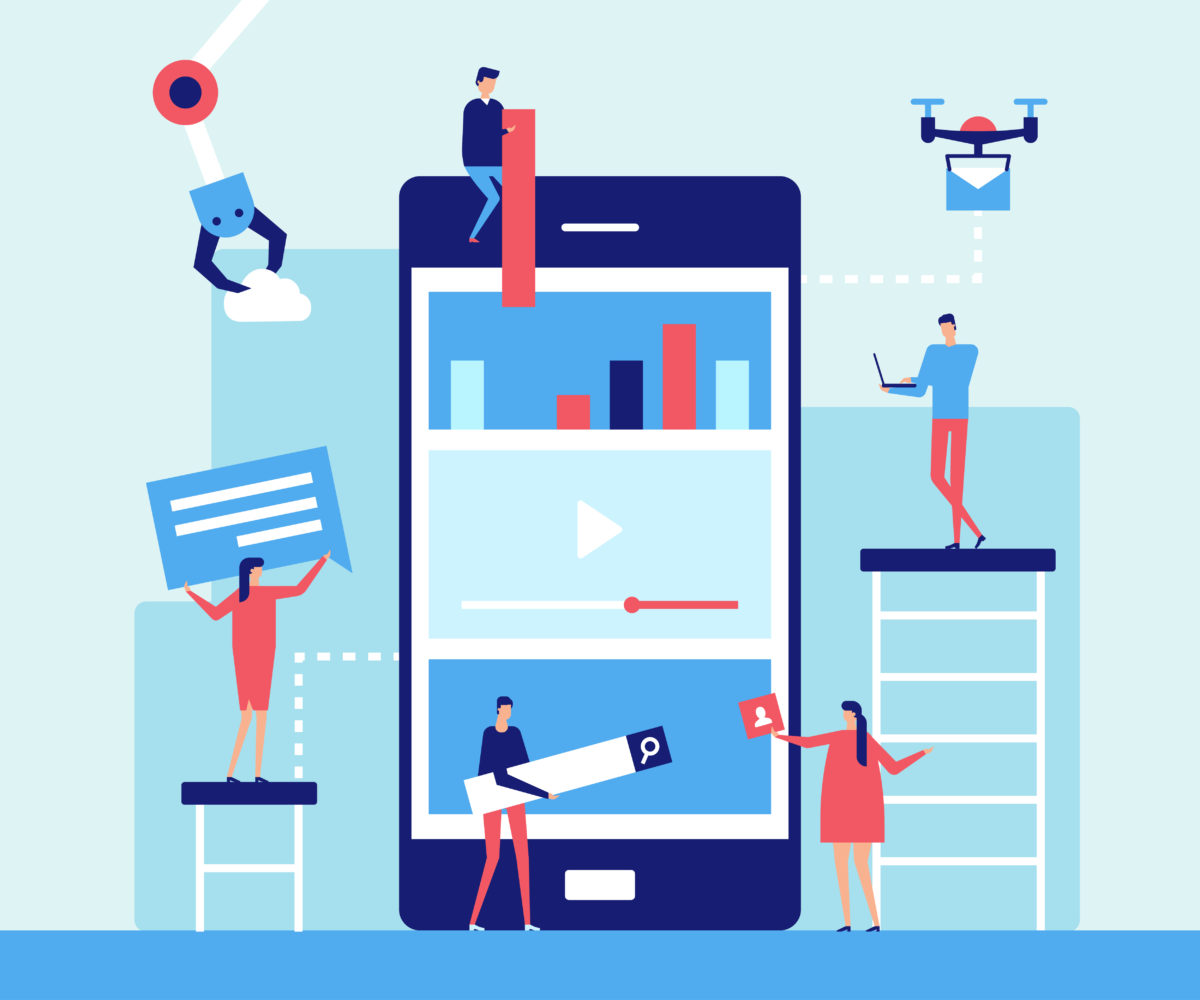 There are many mobile app development companies out there, but you need to choose the ones that provide value and worth. Choosing the right Mobile App Development Company Mobile application development is the process of creating software applications that run on a mobile device, and a typical mobile application utilizes a network connection to work with remote computing resources. Hence, the mobile application development process involves creating installable software bundles (code, binaries, assets, etc.), implementing backend services such as data access with an API, and testing the application on target devices. Here is a list of the top 10 mobile app development companies.
Hyperlink Infosystem, an ISO 9001:2008 certified organization, is a renowned IT Software Solutions provider based in Ahmedabad, India.
Established in 2011, Hyperlink InfoSystem, with its dedicated and skilled team of professionals has able to create dynamic and cost-effective solutions for its clients that are based all over the USA, UK, Japan, Canada and other parts of the World. They believe in delivering services without compromising on time or quality. They are pioneers in Android app development.
Hyperlink Infosystem is believed to be one of the popular providers of IT services. The professional company is closely structured in such a way to offer more acquirable results and solutions for use in a variety of businesses, encountering problems in information and technology sector.
Konstant Infosolutions
Konstant Info is one of the highest-rated Web and Mobile App Development Company across India & the USA. With more than 2500+ happy customers worldwide, and have delivered 3500+ successful apps, they are constantly driving their efforts towards building long-lasting relations over the past 16 years. The company has served 30+ industries, both large Enterprises as well as start-ups for building swift and agile apps that are highly performant and efficient in cost. Android app development is one of the major expertise of the company.
The NineHertz
Nine Hertz is the fast-growing Mobile application and web development firm that is guided in delivering the products and views into mobile space with prime quality. They assist clients in identifying the risks and opportunities that address both short-term challenges as well as long-term value creation. They are not your generic mobile app developer. Hiring them is like enlisting a top-notch development team, a decisive business consultant, a marketing leader, and a product manager.
Since 2008, The Nine hertz has been creating prodigious apps for world's most inventive brands. The company has delivered more than 1000 mobile and web apps worldwide within both native and cross platforms. Among few of them are award winning iPhone and Android apps are in the list of top 10 downloaded apps on Google and Apple store. Without doubt the company provides one of the best mobile app development services in India.
Prismetric
Prismetric is an ISO 9001:2015 Certified Mobile App Development Company having a development center in India with offices in the USA & Brazil that offer exceptional application development for iPhone, iPad, and Android devices along with other web services to provide end-to-end solutions. They have a strength of over 80+ highly skilled and competent mobile app developers and designers working with a sole mindset of customer satisfaction.
Since its inception in 2008, the company has always followed a vision to provide customized technology solutions that delight clients and today have turned out to be a leading and reliable mobile app development compan
Emizen Tech
A leading Magento Solution Partner, Emizen Tech, was founded in the year 2013. Being an Adobe Bronze Partner, their team of top Magento experts deliver engaging omnichannel and various device-friendly storefront experiences to the customers employing Magento Open Source and Commerce editions.
At Emizen Tech, the company's best eCommerce development services assist the eCommerce businesses in enhancing their customer reach and increase their revenue through the optimal blend of user-centric solutions, omnichannel presence, and knowledge of customer tools. The company is right there in the list of the top app developers in India.
ARKA Softwares
Arka Softwares is an ISO 9001:2015 certified and industry-leading web and mobile development solution provider company with 100+ passionate developers and designers, based in Jaipur, India, having offices in, USA, UK, and Australia. They have been helping their consumer-oriented clients to drive business with our innovation-driven and contemporary web and mobile app solutions since our establishment in 2010.
So far, the company has successfully delivered 600+ projects to 450+ happy clients from ambitious start-ups to Fortune 500 companies with their world-class quality of digital products that minimize modern business challenges and clear the path for future opportunities and possibilities. Majorly concentrated on Android app development, the company can give exceptional results.
Affle Enterprise
Affle's Enterprise BU focuses on helping companies to go online through platform-based app development that enables thriving startups & giant enterprises to solve complex business challenges through mobility solutions.
Affle is a global technology company with a proprietary consumer intelligence platform that delivers consumer engagement, acquisitions and transactions through relevant Mobile Advertising. The platform aims to enhance returns on marketing investment through contextual mobile ads and also by reducing digital ad fraud. The company is one of the best app developers in India.
Indus Net Technologies Pvt. Ltd.
INT. is an award-winning digital-first enterprise bringing innovative ideas to life since 1997. Offering simple and sustainable digital solutions with the confluence of technology, analytics and marketing, INT. is the trusted partner of fastest-growing Agencies, SMEs and Startups across 20+ countries.
The company's consultative & collaborative approach is analytics-driven. It helps enterprises to navigate every facet of the digital landscape, to identify growth opportunities, reveal competitive advantages, and define engaging experiences for their customers. The entrepreneurial zest and legacy have helped them formulate enterprise-grade scalable products that translate organizational ambitions into a successful reality. The company is one of the best hybrid app developer in India.
Pairroxz
Pairroxz has marked its existence in the market since 2011. They are engaged in the development of some of the finest and feature-rich apps in Android & iOS. This is not the only they do, the company works more like a creative agency where we serve Full Marketing and Communication, User Experience (UX) / User Interface (UI) Research, Strategy & Design, Enterprise Website, Shape your ideas in reality, Wireframing, Front End Development, and Backend Development. Their focus is to build a platform to execute the BRANDING STRATEGY". The company believes in creating innovations through technology and the perspective is what makes them different from others. They are big thinkers with a passion for creating beautifully crafted digital experiences specially integrated with covering user experience design, strategy, and creativity, technology, media, and analytics, mobile, branded content, and social media services. If you are looking for the best cross-platform app developer in India, then the company is a choice.
Brainium Information Technologies
Brainium is an ISO 9001:2015 certified, award-winning software development company & a Google Partner which primarily focuses on client needs and strives to deliver result-oriented solutions.
A full-service digital agency that combines interactive design with intelligent technology & creativity to not just deliver, but turn your project into a success story.
Along with other mobile app development companies, Brainium has achieved expertise in Web Technologies, Mobile Technologies & Digital Marketing and provide end to end solutions in App Development, Web Development, On-Demand Hiring, & Digital Marketing.
We handle every project with great diligence and provide the best solution and ROI to boost business growth. We firmly believe that We Succeed When Our Clients Succeed. if you are searching for the best mobile app development companies, then Brainium is one you cannot neglect.
We at Vingsfire, provide end-to-end web and mobile app development services, tailored exclusively to solve your unique business challenges. We specialize in driving digital innovation with engineered human-first-experiences powered in the form of strategy, product design, and development. Web and Mobile app development company makes everything better.
Share your ideas with Web and Mobile app development company and before that, you can Join our 10 Minutes free demo.
For any queries feel free to call us at +91 98847 77171 or you can email us at partha@vingsfire.com. Stay safe and have a great day.