What We Provide In Sports App
Sports app is an application that allows users to monitor their favorite sports events and root for their favorite team from Android devices. Many of them can successfully function on computers and various mobile devices and let you watch live streaming from any place. Some apps are free, while others require a subscription. These interactive tools are simply necessary if you don't want to miss any important competition, but aspire to be aware of every update in the world of sport
Benefits of sports app
If you're into sports, you should probably be into apps. Why? Because they are simply the best way of keeping in touch with your team, anywhere and everywhere.
It follows, then, that if you're a sports organisation you should be considering developing an app: all those fans and potential fans want to engage with you, and an app is a great way of ensuring that they can do so whenever if convenient for them.
Whether you're a sports team or a race track, a leisure centre or a stadium, a sports app is a great way of pushing information to users – and allowing them to connect with you in turn, whether by buying tickets or booking time on the court. Sports is ultimately about people – and apps connect them.
If you're considering building a sports app, the first question to ask, then, is what precise interactions you want to enable and encourage. Your fans, members or users will have a set of needs that an app can help meet more conveniently; identifying those and focusing the software functionality on them is key.
So, too, is what the app looks like. The layout is critical to any app, and a sports app has specific requirements: it should centre the core content, and make navigation from result or session to the next as easy as possible. Images, videos, and text should be as relevant as possible – prioritise action and highlights of play. We are talking about sports, after all! Inspire activity.
Features of sports app
Booking Tickets: Buying tickets for a team's games through an app is a no-brainer. Make attendance easier!
Ecommerce: If fans want their team's latest replica shirt, why shouldn't they be able to buy it at home?
Up-to-date news and streaming: On the go? Fans can stay in touch with their team's match via an app.
Chat to fans and teammates: Just started a new team? Why not add a chat element to your app, through which you can interact with the community.
Photos: Who doesn't like the latest imagery? View and even purchase the newest shots from the touchline in the palm of your hand.
Pedometer: Contribute to the fitness of your users: with a pedometer, fitness gurus can keep track of their steps throughout the day.
In other words, a sporting app should be a channel through which a team or a venue communicates with its users. Sport builds communities – and an app can become a powerful forum for one. By creating that digital space, sports organisations will reap the rewards of greater engagement.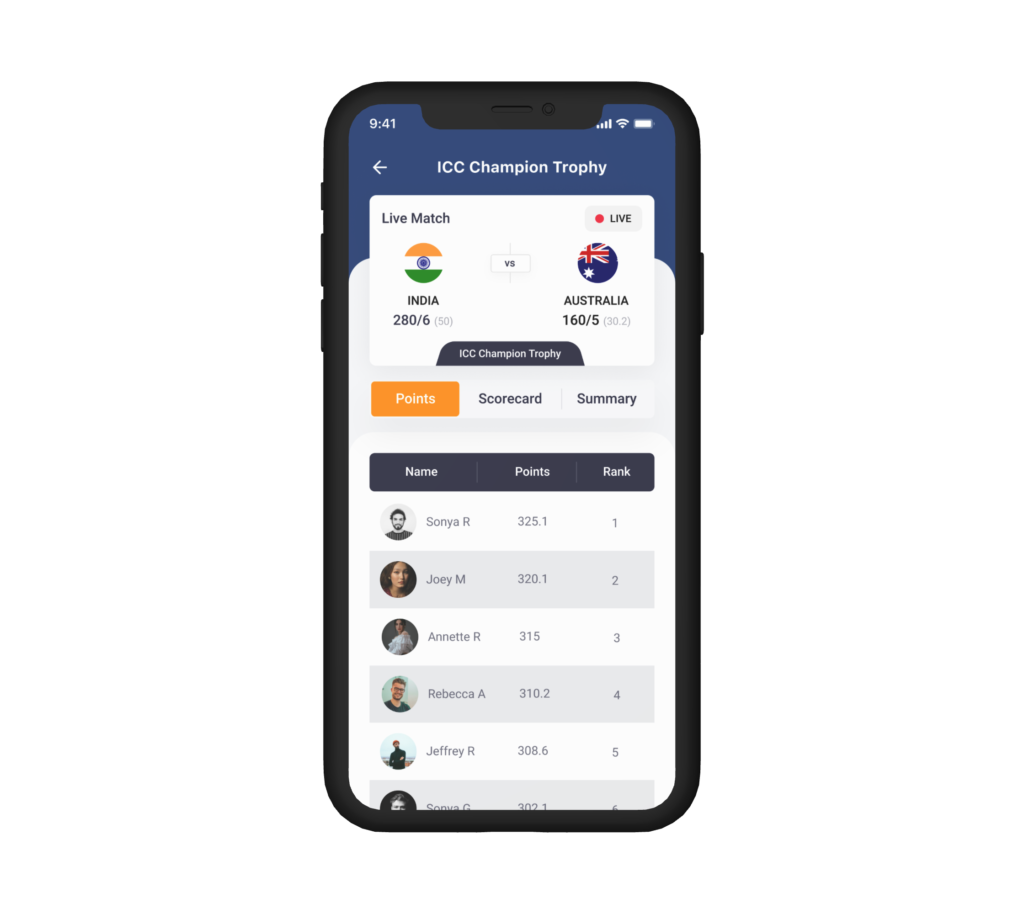 Functionalities of sports app
Here are some of the functionalities of sports apps that I found on the web page
Personalized feed with contents from all your favourite sports, teams and leagues.
Get the latest top headlines and scores of every sport of your choice in an instant.
Connect with other fans around you through the messaging feature on the app.
Discover the biggest social stories of the time that has sports fans on a buzz.
Technologies
Time frame
Cost of App –
Basic Apps: Basic apps with limited features and functionalities typically range from 10 lakhs
Medium Complexity Apps: Apps with moderate features and functionalities, user authentication, database integration, and API integrations can range from 12 lakhs
Complex Apps: Highly complex apps with advanced features, custom designs, real-time data synchronization, third-party integrations, and backend development can range from 13 lakhs or more.
Discovery and Planning: 100,000–130,000
Design: 100,000–130,000
Development: 400,000–520,000
Backend Development: 200,000–260,000
Testing and Quality Assurance: 200,000–260,000
Deployment and App Store Submission: 15000 Rs (both Android and IOS)
Maintenance and Support: 10 – 15 % per year (Depending on the user volume)