What We Provide In Furniture App
A furniture booking app is a mobile application that allows users to browse, select, and book furniture for various purposes such as home, office, events, or temporary needs. The app provides a platform for users to explore a wide range of furniture options, view detailed product information, check availability, make reservations, and manage their bookings.
Features of furniture app
User Registration and Authentication: Users can create an account and log in to the app using their email or social media accounts.
Search and Browse: Users can search for specific furniture items or browse through categories and collections to find the desired furniture.
Product Listings: The app displays detailed information about each furniture item, including high-quality images, descriptions, dimensions, available colors, materials, and rental rates.
Availability and Booking: Users can check the availability of furniture items based on dates and locations. They can select the desired rental period and make a booking request for a specific piece of furniture.
Booking Management: Users can view and manage their bookings, including the ability to modify or cancel existing bookings. They may also have the option to extend the rental period if needed.
Functionalities of furniture app
User Registration and Profile Management: Users can create an account, log in, and manage their profile information, including personal details, preferences, and delivery addresses.
Furniture Catalog: The app provides a comprehensive catalog of furniture items, including different types such as sofas, chairs, tables, beds, and more. Each item is accompanied by detailed descriptions, high-quality images, and relevant information like dimensions, materials, and colors.
Search and Filters: Users can search for specific furniture items based on keywords, categories, or filters like price range, style, color, or availability. This feature helps users narrow down their choices and find the furniture that matches their requirements.
Booking and Reservations: Users can select the furniture they want to rent or purchase and make bookings or reservations directly through the app. They can specify the rental duration, delivery date, and any additional requirements.
Payment Integration: The app integrates with secure payment gateways, allowing users to make online payments for their furniture bookings. Users can choose from various payment methods like credit/debit cards, mobile wallets, or digital payment platforms.
Booking Management: Users can view and manage their existing furniture bookings within the app. They can check the status of their bookings, modify the delivery date, extend rental periods, or cancel reservations if needed.
Delivery and Logistics: The app may offer a delivery service where users can schedule the furniture's delivery to their desired location. Users can track the delivery status, receive notifications, and communicate with the delivery.
Benefits of furniture app
Convenience: With a furniture booking app, users can easily browse through a wide range of furniture options from the comfort of their homes or offices. They can choose the furniture they need, check availability, and make reservations or bookings instantly, saving time and effort compared to visiting physical stores or making phone calls.
Variety and Choice: Furniture booking apps provide access to a vast selection of furniture items, styles, and designs from different brands and retailers. Users can explore various options and find the perfect fit for their specific needs, preferences, and budgets.
Flexibility: Furniture rental apps often offer flexible rental durations, allowing users to rent furniture for short-term needs or longer periods, depending on their requirements. This flexibility is particularly beneficial for people who frequently move, temporary projects, or those who don't want to commit to long-term furniture ownership.
Cost-effective: Renting furniture through an app can be more cost-effective.
Email promotion 
  Subject: Discover the Ultimate Furniture Booking App for Effortless Interior Design!
Dear [Recipient's Name],
I hope this email finds you well and immersed in the world of beautiful interiors. As a fellow design enthusiast, I wanted to introduce you to a revolutionary new way to enhance your home or office with the finest furniture pieces. Allow me to present our game-changing furniture booking app, "FurniEase."
Are you tired of browsing countless websites, visiting numerous stores, and dealing with the hassle of transporting heavy furniture? With FurniEase, those days are over! Our app brings convenience, style, and functionality to your fingertips.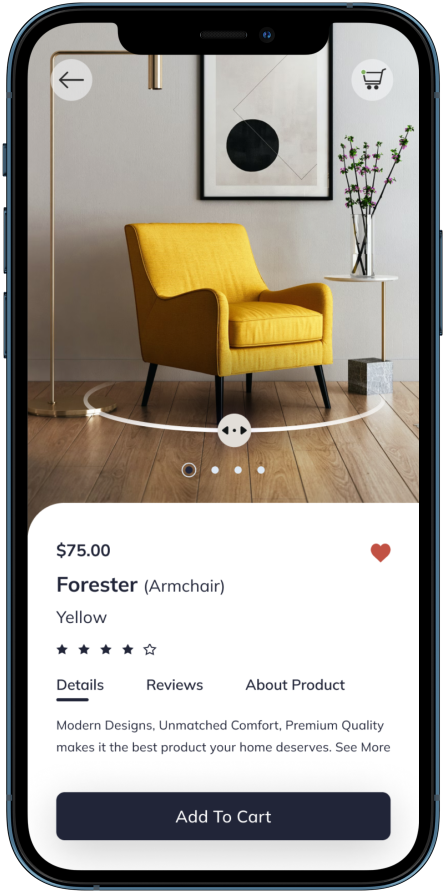 Technologies
Time frame
Cost of App –
Basic Apps: Basic apps with limited features and functionalities typically range from 2 lakhs
Medium Complexity Apps: Apps with moderate features and functionalities, user authentication, database integration, and API integrations can range from 3.5 lakhs
Complex Apps: Highly complex apps with advanced features, custom designs, real-time data synchronization, third-party integrations, and backend development can range from 15 lakhs or more.
Discovery and Planning: 20,000–150,000
Design: 20,000–150,000
Development: 80,000–600,000
Backend Development: 40,000–300,000
Testing and Quality Assurance: 40,000–300,000
Deployment and App Store Submission: 15000 Rs (both Android and IOS)
Maintenance and Support: 10 – 15 % per year (Depending on the user volume)