What We Provide In Office suppliers app
      An office supplies app can be a convenient tool for businesses and individuals to manage their office supply needs.
Features
Product Catalog: Include a comprehensive catalog of office supplies, ranging from stationery items like pens, paper, and staplers to larger equipment like printers and scanners. Provide detailed product descriptions, images, and pricing information.
Ordering System: Allow users to browse through the product catalog and place orders directly from the app. Implement a user-friendly interface with options to select quantities, add items to a shopping cart, and specify delivery details.
Inventory Management: Integrate an inventory management system that keeps track of available stock. This helps prevent overselling and ensures that customers are informed about product availability.
User Accounts: Provide users with the ability to create accounts and save their preferences, such as shipping addresses and payment methods. This makes it easier for returning customers to place orders and track their purchase history.
Functionalities
Product Catalog: The app can have a comprehensive catalog of office supplies, including various categories like stationery, writing instruments, paper products, filing and storage solutions, technology products, and more. Users can browse and search for specific items they need.
Ordering and Purchasing: The app allows users to place orders for office supplies directly from their mobile devices. Users can add items to their cart, specify quantities, select variations (such as size or color), and proceed to checkout for secure online payment.
Favorites and Wishlist: Users can create a list of favorite or frequently purchased items for easy access. They can also create a wishlist to save items they plan to order in the future or share with others.
Order Tracking: Once an order is placed, users can track the status of their shipments within the app. They receive updates on the progress of their order, including shipping details and estimated delivery dates.
Inventory Management: The app may offer features to help users manage their office supply inventory effectively. Users can track their current stock levels, set reminders for low-stock items, and receive notifications when it's time to reorder.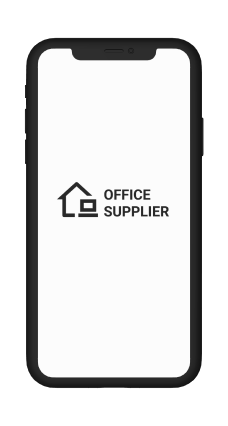 Benefits
Streamlined procurement process: An office supplier app allows businesses to browse through a wide range of office supplies and place orders directly from their mobile devices or computers. This streamlines the procurement process, eliminating the need for manual order forms or phone calls.
Time and cost savings: By automating the ordering process, an office supplier app saves time for employees who would otherwise spend valuable hours searching for products, comparing prices, and placing orders. Additionally, some apps offer competitive pricing and special discounts, potentially saving businesses money on their office supply purchases.
Enhanced inventory management: Office supplier apps often come with inventory management features, enabling businesses to keep track of their office supply stock levels in real-time. This allows for better inventory control, reducing the chances of running out ofessential supplies or overstocking items.
Technologies
Time frame
Cost of App –
Basic Apps: Basic apps with limited features and functionalities typically range from 2 lakhs
Medium Complexity Apps: Apps with moderate features and functionalities, user authentication, database integration, and API integrations can range from 3 lakhs
Complex Apps: Highly complex apps with advanced features, custom designs, real-time data synchronization, third-party integrations, and backend development can range from 3.5 lakhs or more.
Discovery and Planning: 20,000–35,000
Design: 20,000–35,000
Development: 80,000–140,000
Backend Development: 40,000–70,000
Testing and Quality Assurance: 40,000–70,000
Deployment and App Store Submission: 15000 Rs (both Android and IOS)
Maintenance and Support: 10 – 15 % per year (Depending on the user volume)