What We Provide In Dating App
In a world where technology has permeated every aspect of our lives, it's no surprise that dating has also found its way into the digital realm. Dating apps have revolutionized the way people meet, connect, and form romantic relationships. This comprehensive guide will take you on a journey through the exciting world of dating apps. We'll explore their benefits, essential features, major players in the industry, and what it takes to develop a successful dating app. Additionally, we'll discuss the technologies, time frames, and costs involved in creating your own dating app. So, let's dive into the realm of modern love and discover how dating apps are changing the dating landscape.
Benefits of Dating Apps
Dating apps have transformed the dating game, offering numerous advantages to those seeking love and companionship:
Accessibility: Dating apps provide easy access to a large pool of potential matches, breaking down geographical barriers.
Efficiency: Users can efficiently filter potential partners based on their preferences, saving time and energy.
Safety: Many dating apps incorporate safety features like profile verification and reporting mechanisms, enhancing user security.
Diverse Options: Users can explore a wide range of potential matches, including those outside their usual social circles.
Communication: In-app messaging allows users to get to know each other before deciding to meet in person, fostering more meaningful connections.
Matching Algorithms: Advanced algorithms analyze user data to suggest compatible matches, increasing the likelihood of meaningful connections.
Constant Availability: Dating apps are accessible 24/7, making it convenient for users with busy schedules to find potential partners.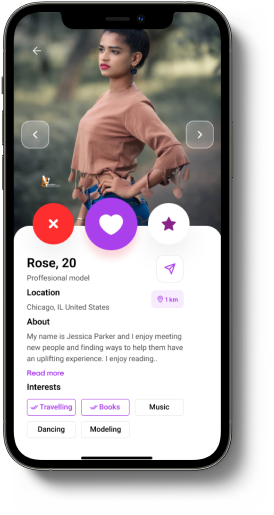 Features of Dating Apps
Dating apps offer a diverse range of features to cater to the unique needs of users looking for love:
User Profiles: Users create profiles with photos, personal information, and preferences.
Matching Algorithm: Algorithms analyze user data to suggest potential matches based on compatibility.
Swipe-Based Matching: Users swipe right to indicate interest and left to reject potential matches.
Messaging: In-app messaging allows users to communicate with potential partners.
Location-Based Matching: Apps use GPS to connect users with people nearby.
Profile Verification: Some apps verify user profiles to ensure authenticity.
Safety Features: Reporting mechanisms and safety tips to protect users.
Profile Customization: Users can add details about their interests, hobbies, and what they're looking for in a partner.
Subscription Plans: Premium features for paid users, such as unlimited swipes and enhanced visibility.
Key Features for a Successful Dating App Development
Creating a successful dating app requires careful consideration of key features that enhance user experience and engagement:
User Profiles: Comprehensive profiles with photos, interests, and preferences.
Matching Algorithm: A sophisticated algorithm that suggests compatible matches.
Messaging: In-app messaging for seamless communication.
Safety Features: Reporting tools, profile verification, and safety tips.
Geolocation: Location-based matching to connect users in proximity.
Profile Customization: Options for users to personalize their profiles.
Push Notifications: Reminders for new matches, messages, and activity.
Subscription Plans: Premium features for paid users to monetize the app.
Technologies, Time Frame, and Cost
Developing a dating app involves several factors, including the choice of technologies, time frame, and costs:
Technologies: Depending on the platform (iOS, Android, or both), technologies like Swift, Kotlin, React Native, or Flutter may be used. Backend technologies like Node.js, Ruby on Rails, or Django can be chosen.
Development Time Frame: A basic dating app can take approximately 4-6 months, while a more complex app with additional features may require 9-12 months or longer.
Cost Range: Costs can vary widely. Basic apps may start at $20,000 – $50,000, medium complexity apps ranging from $50,000 – $100,000, and complex apps exceeding $100,000 in development costs.